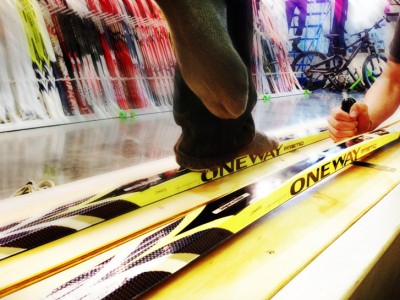 For any skier, ski fit is the single most important factor when choosing skis. If the ski doesn't fit properly, it simply can not perform at its potential!
Properly fit skis will help your ski technique and may even help you rid yourself of some bad technique habits.
How to Find Skis That Fit
The best way to find skis that fit properly is to allow time for us to help you in your selection of equipment.
 The standard way of testing ski fit is by doing a camber test. In doing a camber test The skis are placed on the fitting block; next the skier will stand on top of the skis with their toes usually placed near the balance point. As ski technicians we will use or camber feeler gauge and move it under the ski (between the fitting block and the ski base). Depending on what type of skiing the customer will be doing (skate or classic, soft snow or hard packed conditions) we will make a decision on which pair of skis is the perfect fit.